Starbucks to Open in Papua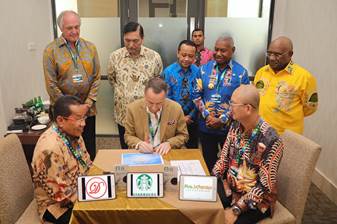 Sorong, 2 March 2020 – On 27 February 2020, Starbucks officially announced to open its first two stores in Papua.
The signing of a Memorandum of Understanding (MoU) between Starbucks, Diana Mall and Jayapura Mall, was witnessed by high level participants on the sidelines of the Green Investment for Papua and West Papua Forum that coordinating ministries are striving to deliver in the coming year. Key speaker and event mastermind, Luhut Binsar Pandjaitan (Coordinating Minister for Maritime and Investment Affairs), were witnessing the Starbucks announcement, along with Bahlil Lahadalia (Head of Capital Investment Coordinating Board or BKPM), Dominggus Mandacan (Governor of West Papua), Klemen Tinal (Deputy Governor of Papua) and Paul Polman (representative of the International Chambers of Commerce).
The two Starbucks stores will open in August this year, in time for the national sports pinnacle PON in October.
Present at the event, Steven Tan, owner of Diana Mall in Timika said, "Starbucks will thankfully open at Diana Mall, where the people here are ready for more international lifestyle brands and we are pleased to welcome Starbucks first store in Diana Mall."
For the provincial capital city of Papua, Jayapura, Starbucks will open in the well-established Jayapura Mall. Representing the mall at the signing was Johannes Willem Makatita, who expressed the excitement that surrounds this announcement, "Our customers in Jayapura Mall often travel and always ask when Starbucks will open in their city – finally their request is answered, we are delighted to host Starbucks in our mall and be the pioneer to introduce the best brands."
Starbucks Indonesia is operated under license by PT Sari Coffee Indonesia, a subsidiary of the retail giant PT Mitra Adiperkasa, Tbk (MAP). The CEO of PT Sari Coffee Indonesia, Anthony Cottan, centre of the signing event, is clearly enthusiastic to be taking Starbucks to its 33 rd and 34 th Indonesian cities and stated, "It has always been our ambition to ensure we are inclusive and accessible to all customers of Indonesia, and finally managing to secure the best sites in Timika and Jayapura will not only give chance for people to have the Starbucks Experience but provide jobs for local Papuans, raise awareness of specialty coffee, and show support of the government's determination to accelerate development in Papua."
About Starbucks
Since 1971, Starbucks Coffee Company has been committed to ethically sourcing and roasting high-quality arabica coffee. Today, with more than 30,000 stores around the globe, the company is the premier roaster and retailer of specialty coffee in the world. Through our unwavering commitment to excellence and our guiding principles, we bring the unique Starbucks Experience to life for every customer through every cup. To share in the experience, please visit us in our stores or online at Starbucks Stories or Starbucks.com.
About PT Sari Coffee Indonesia
PT Sari Coffee Indonesia is made possible through the relationship between Starbucks Coffee International and PT Mitra Adiperkasa Tbk, one of the most renowned department store and branded goods companies in the country. It is also the sole company exclusively licensed to set up and operate Starbucks in Indonesia. In Indonesia, all food and beverage items sold at our stores are Halal Certified.
About PT Mitra Adiperkasa TbkMAP operates more than 2,200 retail outlets in 76 cities throughout Indonesia. The major retail concepts under the group among others; Department Stores: Sogo, Seibu and Galeries Lafayette; Fashion & Lifestyle: Zara, Massimo Dutti, Pull & Bear, Stradivarius, Marks & Spencer, Topman, Topshop, Lacoste, Kipling, Swarovski, Mango and Sephora; Sports: Planet Sports.Asia, Sports Station, The Athlete's Foot, Golf House, Skechers, New Balance, Asics, Converse, Reebok, Airwalk, Payless, Birkenstock, Staccato, Clarks, Kidz Station, Lego, Smiggle and Hasbro; Food & Beverage: Starbucks, Genki Sushi, Pizza Marzano, Krispy Kreme, Cold Stone Creamery Ice Cream, Paul Bakery, Burger King and Domino's Pizza; Others: Digimap, Kinokuniya and Alun Alun Indonesia. For more information about MAP please visit www.map.co.id.
For media inquiries, please contact:
Kiki Mochamad Rizki
Division manager, public relations and csr
PT Sari Coffee Indonesia
kiki.rizki@starbucks.co.id